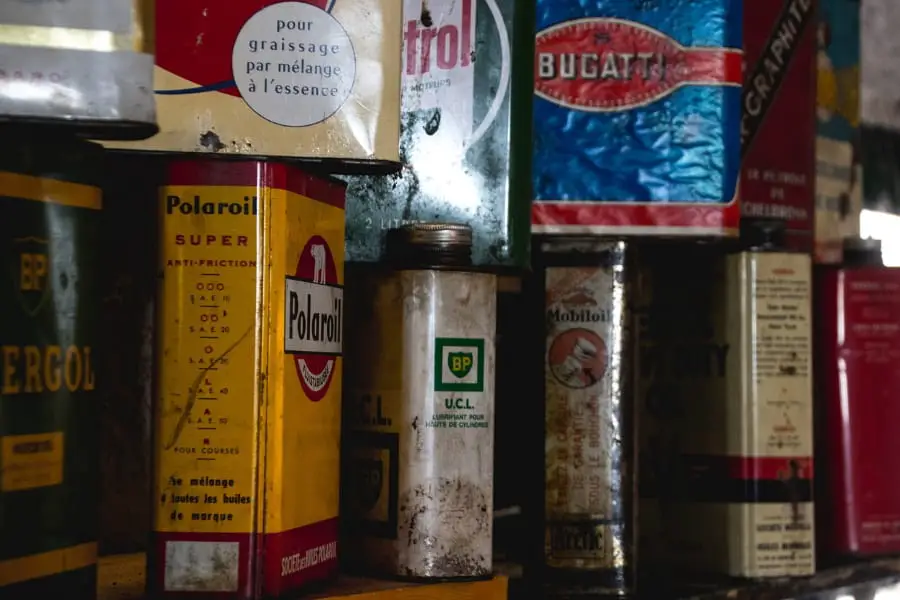 Whether you have been fishing for ages or are just starting, finding an excellent oil for your reels is a must.  Fishing reels are not cheap and require routine maintenance. If you keep up with the maintenance on your fishing reels, they can last you for a long time. Part of that maintenance is keeping the reels well oiled.  Doing this will not only prolong their life span but also help ensure that you do not run into any problems when you get that big catch. 
What are the best oils for lubricating fishing reels? These oils topped our list of as very best for cleaning and maintaining fishing reels parts and bearings:
Ardent Reel Butter Oil
WD-40 (for cleaning)
PENN Reel Oil and Lube Angler Pack
Lucas Oil Product 10690
Liberty
Remington Rem Gun Oil
Hoppe's #9 Gun Oil
Boca Reel Bearing Kit Oil
Abu Garcia Maintenance Kit Oil
Ardent Reel Supreme Micro Lubricant
Quantum Hot Sauce
Trip and Seasonal Maintenance on Fishing Reels
Whether you are trying to bring an old reel back to life, or you need to do some maintenance on your reels. The right fishing reel oil is going to be the first crucial step in making those reels last a long time. I have compiled a list below of the best reel oils that I mostly use out there for angling. 
You are going to want to oil your reels after every fishing trip and perform seasonal maintenance on them at the end of the season and the start of a new season. Your annual maintenance involves taking apart the reel and applying lubricant in some hard to get places.  You will need a combination of cleaners, grease, and lubricating oils. 
11 Best Oils for Fishing Reels
Let's get started.
#1 Ardent Reel Butter Oil
Just a few drops of Ardent Reel Butter oil, and you can bring any reel back to life. This stuff should be more expensive than it is.  Ardent Reel Butter Oil is fully synthetic and contains some anti gumming agents in the oil. 
The oil works great on seeping right down into the hardest to lubricate places–ball bearings, shafts, and other wear points. 
Ardent Reel Butter can be used in any weather condition. The oil has a low viscosity making it easy to use on just about any reel. The Reel Butter oil is made for all types of fishing reels. 
The only negative is that it doesn't come in a larger quantity bottle.  If you are greasing the reels a lot, you can run out rather quickly. It is only available in one-ounce bottles which you can check out on Amazon here. 
Want to find out more about Ardent Reel Butter Oil?  Then check out this video review:
#2 WD-40
Despite the controversy between whether or not you should use Wd-40 on your reels or not, WD-40 (link to Amazon) is a great cleaning agent.  It will get rid of extreme gunk and other grease blots almost immediately. WD-40 is a Water Displacement formula. WD-40 removes grease while adding a water resistance oil coating. 
Although WD-40 should not be used for long term lubrication of your reels, it is excellent for cleaning old and new units.  You do not want to spray the entire reel with WD-40 either–you need to spray a rag and wipe down the outside of the Fishing reel. 
There are many products out there to clean your fishing reels, but WD-40 works wonders for the price and hasn't damaged a Fishing reel yet. WD-40 has a water displacement formula that helps prevent corrosion.  I only use it to clean my fishing reels, not to lubricate them regularly. 
WD-40 is usually found in most hardware stores or most people's garages already. If you're interested in learning more about the effects of using WD-40 on your fishing reels, we wrote a more in depth report here.
#3 PENN Lube Oil and Angler Combo Pack
Probably the most popular oil available on the market, and it is a great product. The PENN Lube Oil (see on Amazon) and Angler Combo Pack is among the top performers for reel oil lube and care.  This Combo Pack gives you the PENN Formula Reel Oil and the PENN Formula Reel Grease all in one. 
You can clean and grease the cogs all at the same time with this pack. Although this may seem like a small amount, you can lube about 50 reels with this one pack. It only takes a small amount of oil in the hard to reach places and a small amount of grease when the fishing reel is in pieces. 
This product is best when used in combination with their rod and reel cleaner (check out on Amazon) to get the fishing reel performing optimally.  You could use WD-40 to clean the rod and reel if you didn't want to use a rod and reel cleaner. 
Sometimes the oil and grease can make the reel seem sticky or dense. You want to make sure you are greasing the correct type of reel. Brass or nylon reels do not need to be lubricated; Although sometimes they do not mention this on the packaging when purchasing the reels.  
Some of the Good Qualities of this Lube are:
The grease doesn't dissolve in water
You can use it for both fresh and saltwater reels
Protects your reels in bad weather
#4 The Lucas 10690 Blend oil 
The Lucas 10690 (see on Amazon) blend is perfect for the tackle box. Although they could work on the packaging of the oil because when it lays on its side for long periods, it tends to leak out of the bottle slowly.  I think that that applies to most bottles designed this way. 
The Lucas Blend does lubricate all types of reels–you don't have to worry about whether it is salt or freshwater. The Lucas blend will stand up to salt and wind.  Similar to the Ardent mixture, Lucas Blend also has no trouble getting to the high gears in the reel. 
The Oil itself is rather thin and has a low enough surface tension to slide into every gear inside the reel. The Lucas blend can also be used on other equipment if need be, such as knives and other fishing gear. 
I would keep the oil away from the filament as it may leave an oily residue on the line, which in turn could leave a smell in the water, or a trail of oil.  It also has a super convenient nozzle to apply the oil inside the reel. 
#5 Liberty Brand Oil
Liberty Oil is probably one of the better ones out there that do not specialize in fishing products specifically.  This one is also safe to use on plastics and painted surfaces, so If you spill a little when applying the oil, it is not going to damage anything.  
Liberty Oil is also okay to use on other outdoor gear. You can use this in place of other petroleum-based lubricants that you would typically carry. The Liberty brand oil also comes with a needle applicator. The liberty oil uses a medical-grade needle. 
The Liberty oil is an excellent oil to use to repair some older reels.  Maybe you have one that you have not paid much attention to for a few years. The liberty of brand oil is fully synthetic, so you don't have to worry too much about it getting too old, or corroding. 
The Liberty Brand oil is also used in firearms as well as to help keep those knives shiny and new.  Liberty Oil is more of a Universal oil than made for a specific purpose. I have used this brand on skateboard bearings, bicycle gears, door hinges, and other everyday items. You can get it on Amazon here.
#6  Remington Rem Oil
Remington Rem Oil is technically a firearms oil but can be used on several outdoor pieces of equipment, including marine equipment.  This oil is a Teflon based oil lubricant that provides excellent protection film on anything you treat it. You can see it on Amazon here.
The Teflon coating protects the equipment from rust and corrosion, as well as cleaning it from dust and grime. The Teflon coating will not destroy the line or any of the gears.
The Teflon coating is also excellent for marine equipment–you can use them on your keyholes, and latches. The Remington Rem oil is made for firearms, so it's more of a universal type of oil to use on multiple items in your outdoor arsenal. 
The screwtop nozzle does tend to leak when left on its side for prolonged periods. It is always a good idea to make sure that the screw cap is snug before storing the bottle in a place where it can easily leak. 
Check out this video here:
#7 Hoppe's #9 Gun Oil
The Hoppe's #9 gun oil (link to Amazon) is another universal oil that you may already have in your collection if you have firearms. Number 9 is the lubricating oil that is perfect for reel bearings. The Hoppe's gun oil can be used on an assortment of metal objects. 
You can use Hoppe's number 9 on:
Firearms
Fishing reels and gear
Knives
Metal locks
Metal door hinges
Locks
The needle applicator makes it so you don't have to worry about putting too much lubricant on your gear; the oil comes out one drop at a time. The smaller needle applicator bottles are reusable, so you could get a larger quantity and re-fill the needle applicator. 
Hoppe's is a lubricating oil only; it does not clean or protects from grime. With that said, though, it is a tremendous lubricating oil and has a high viscosity, which means that it won't dry and clump as some other oils do. 
I've even used this to restore some old fishing reels to get the bearings loose enough to try and replace. 
#8  Boca Bearing High-Performance Fishing Reel Bearings Kit
The Boca Bearing (click to see on Amazon) High-performance Fishing Reel Bearings Kit comes with everything that you need to upgrade or maintain your fishing reels. The Boca kit comes with cleaner, pliers, oil, and grease. 
This kit is more for an overhaul of parts, maybe pulling out the bearings, cleaning and lubricating them, and then putting the treated bearings back in the reels.  Because you can use it on your ceramic bearings, the kit comes with a guide to ceramic bearings, which we found useful. 
The Kit is designed for caring for the bearings than the entire reel. The kit is going to be useful if you need to take the bearing out to clean and replace them, and it could be helpful to care for the Boca Bearings in your fishing reel.  
One thing about the Boca Bearing Kit that we don't like too much is that the oil that comes in the kit is in a syringe-type of the dispenser, and once the O ring wears out, it leaks. Also, the oil goes rather quickly because of the dispenser that the oil comes in specifically.  
#9 Abu Garcia Maintenance Kit
If you need a maintenance kit instead of just oil, this maintenance kit is the best one on the market. The Abu Garcia maintenance kit (open on Amazon) is not a bearings kit but is used to clean and lubricate your gear with minimal invasiveness. 
The Abu Garcia maintenance kit comes with a brush, a wrench, a flat head screwdriver, grease, oil, and cleanser.  If you wanted to clean and prep your reel for next season or the current one, this kit has everything you need to do just that. 
The nifty carrying case that comes with the kit makes it easy to carry in the field. Sometimes the carrying case is a little hard to zip up, but that is fine for me. Abu Garcia Oil itself is worth its weight in gold. The fact that it comes with everything I need in a nice case makes the deal for me. 
#10 Ardent Reel Supreme Micro Lubricant
The Ardent Reel Supreme Micro Lubricant (Amazon link) is used as more of a protective coat every once in a while. The Micro lubricant gets right into the pores of the metal and seals it from water. Not only is the Ardent Supreme Micro lubricant waterproof it also prevents corrosion. 
This oil is extremely thin, so a little bit goes a long way. The Supreme Micro oil can bring an old reel back to life, but its primary purpose is to lubricate and seal. 
The One Downside to This oil, similar to the Reel butter is that it doesn't come in a larger quantity. It is easy to overuse this oil because you only need a few drops; If you have a heavy hand when pouring oil, this is not the oil for you. 
This Micro Oil is not for anything but fishing reels and does not make an excellent multi-purpose oil. It is made specifically for fishing gear only. 
#11 Quantum Hot Sauce
Quantum Hot Sauce reel oil is amongst the fan favorites and for a good reason. The Hot sauce is a low viscosity oil that even comes with a one year guarantee against defects. The only issue here is that what exactly is going to go wrong with a tube of lubricant in one year?  It is a great promise; I have yet to have to use. This Reel oil is also fully synthetic and claims to bond with the metal in your casts molecularly. 
I am not sure how they manage to accomplish that, but that is what they claim this hot sauce can do. Aside from that claim, it is a phenomenal oil to use on your fishing gear. I have used it a few times and had no issues with my reels, and it seems to run smoother.  
Quantum hot sauce also claims to increase your casting distance, which I have experienced. Not that the other lubricants do not do the same things, but It is a noticeable difference in the smoothness of how the reel performs. 
The applicator leaks at times, so I prefer taking a fishing hook and making a hole at the top of the applicator versus clipping the top off to try and reduce this. It does waste a lot of the oil with the type of applicator they use. A needle applicator would fare better for the amount they give you. 
Final Thoughts/Conclusion
All of these lubricating oils are a good selection.  They all do a great job at lubricating the fishing reel. Sometimes you need more than just quick lubrication to get you fishing.  For my infield fishing trip, I prefer the Ardent Reel butter as my first pick – you can get it from Amazon here. I like the smoothness of the reel oil after it is applied. The reel does loosen up a lot and casts excellent after using the reel butter. 
For my seasonal maintenance, I like to use the Abu Garcia Maintenance Kit (link to Amazon). The Kit has everything I need to take the reel apart, clean and lubricate the bearings, and grease the cogs. I am so spoiled by the nifty carrying case and brush that I can't use anything else.  Not only does the grease work wonders for storing my reels as well as a pre-season tune-up, but the lubrication oil also lasts forever. 
" The Angeling Fever is a very Real Disease that can only be cured by cold water and fresh, untainted air."
——Theodore Gordon——