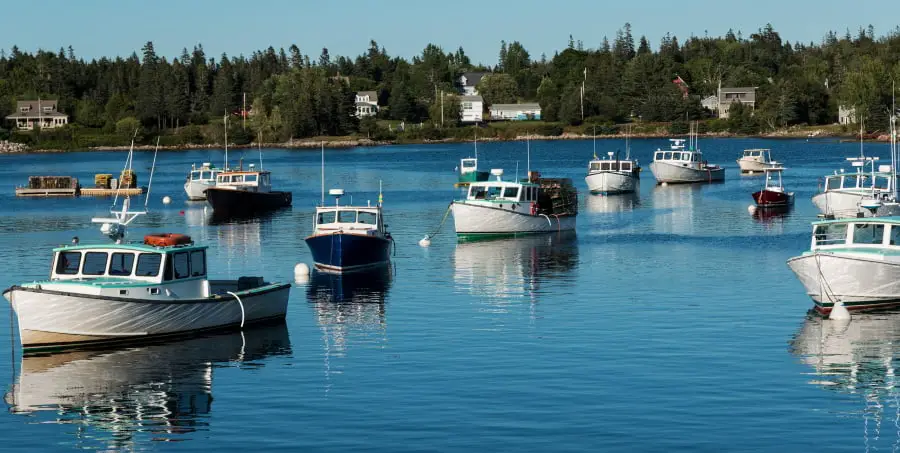 If this is your first freshwater boat or new boat purchase, you have come to the right place to help you figure out what boat is best for you. Each Freshwater fishing boat is going to have different perks and downsides. 
What are the different types of fishing boats?  The type of fishing boat varies based on size and purpose, types of maintenance required, costs of ownership, and where to store your boat. 
We'll fill you in on all the details about each type of boat.
Understanding Fishing Boats
There are several things to consider when looking at boats. The majority of the options are specifically designed to tackle specific challenges of the waters.  Aside from having different types of ships in the freshwater/ Saltwater Categories, you also have items that cross over into the various waterways. 
You have both fiberglass and aluminum options in both freshwater and saltwater boats. There are specific types of vessels, such as the ones that we talk about here, that are also available in both Fiberglass and Aluminum options.  
Different Hulls are designed for different water types. For most freshwater boats, you can buy either the V hull or the Flat bottom Hulls; however, some of the sportier models will come with some differently designed shells that are meant to separate the water in a specific manner to aid travel.   You can read more about the different types of Hulls and their particular purposes here. 
You can combine options to get the boat that you desire. These are all common traits amongst all the different types of fishing boats available.  Aside from those shared traits, each manufacturer and boat type will have their very own unique properties, and while this is not a complete guide, we do cover the best of all kinds of fishing boats for Freshwater Fishing. 
Bass Boats
This type of boat is made and designed specifically to catch bass, or at least go bass fishing. Typically, you can fit about five people maximum on a well-designed bass fishing boat. Most Bass Fishing boats are designed for only two people. They are small enough to be hauled by a trailer.  The Bass Fishing boats are typically between 16-25 feet long with an outboard engine. 
Bass fishing boats come in a variety of different styles, including aluminum and big bass fishing boats. The fishing deck is what makes this beauty an excellent fishing boat. Bass boats have unique casting decks, sometimes on both sides of the seats. 
Bass Boats are often low-profile boats, with larger Livewells than most other ships. The Bass Fishing boat is designed with the angler in mind 100%. The bass fishing boat is also not a great boat for water sports or anything besides bass fishing. 
Although most bass fishing boats will have all the top tools for bass fishing, including an extra powerful motor, they are useful in fishing just about any fish. I would not recommend taking a Bass boat into the swampland, or on a free-flowing river, but for any lake fishing, the bass boat is the top in class. 
Nitro Pro Bass Boats
Nitro Boats Make a high-performance bass boat with all of the technology you could want on a Bass Boat. Nitro has three different series of ships: the Z series, Sport, and ZV series.  The ships are made with a low profile and easily fit on a trailer. 
Where Nitro Shines in the Z series or Bass Series is the amount of technology that you get for the boat. Not to say that the quality suffers because of the added stock fish finders and GPS trackers–most of the engines are standard Four-stroke motors with pro-level performance. 
One of the unique features of owning a Nitro Boat is the rewards system that they have. If you place in the top ten in a Nitro approved tournament, Nitro would pay you cash. You do have to win in your Nitro Boat, but they have paid out over 2.1 Million dollars so far. You can find out more about that rewards program here. 
Nitro builds most of the additional components for their boats, making their lean sigma approach save you money in the long run.  Nitro offers a lot of competition for your patronage. 
Some of the Most Common Standard Features are:
Bow Hummingbird Fish Finder
Console Humming Bird Fish Finder
Ethernet connection between both fishfinders
Keel Protector
Three bank 30amp charger
Retractable trailer tie-downs
Molded Drainage channels around bow storage
Z-Core Seating systems
30 Gal Aerated Livewell with divider and timer
500GPH Livewell recirculation pump
Water Resistant switch panels
12 V outlets
Aerodynamic console
Ready to accept Removable port console (click link to see on Amazon)
Ranger Aluminum Bass Boats
Ranger is a trendy Bass boat brand that makes an aluminum bass boat that easily keeps up with the competition. Although the original style is a Bass Boat, the ship is comprised primarily of Aluminum rather than Fiberglass. 
Ranger Aluminum Boats are 100% wood-free and made with high-quality aluminum. The boat is entirely welded together, making this aluminum boat one of the top-quality boats money can buy. These boats also have some excellent storage in the hull. There is plenty of room for fishing poles, extra lures, lunch, drinks, emergency supplies, and a live well. 
The Foam inserts that help provide level floatation exceed the coast guard standards. Ranger does not go light on the detail of their aluminum series boats. You can read more about how they construct their aluminum boats on their website. 
Ranger, as a company, is dedicated to making five-star boats. They pride themselves in producing a quality product that towers the competition. Ranger Boats also come with a higher resale value than other models of the same type.  The Ranger boat is one that you would want to use a boat cover (see on Amazon) to protect it against the elements. 
Xpress Boats' Aluminum- All Series
Xpress Boats claims that they have the original all-welded aluminum boat.  They make several different types of freshwater fishing boats, including the Bass, Bay, Skiff, and Catfish boats. You can fish for just about anything with an Xpress boat. 
Xpress boats make each of their ships to fish for specific fish. Xpress boats use a high grade 5052 aluminum alloy and have a Handcrafted weld on all their boats. They also pride themselves in not using any rivets or screws as well as their unibody injected foam structure. 
Xpress boats also feature several helpful "webisodes" that show you some cool fishing tips and trips. 
Xpress Boats was established in 1966, with the commitment to manufacture the best all-welded aluminum boats. Today, Xpress boats are still entirely family-owned and operated. 
Here is a Nifty Chart that explains the features of each of the boat series that Xpress has. 
| | | | | | | | | |
| --- | --- | --- | --- | --- | --- | --- | --- | --- |
| | Bass | Bay | Skiff | Catfish | Crappie | Hunting | Utility | Jon |
| Bass | X | X | X | | X | | | |
| Trout | X | X | | X | X | | | |
| Catfish | | | | X | X | X | X | X |
| Deep Water | X | X | X | X | X | X | X | |
| Shallow Waters | | | | X | | X | X | X |
| Longevity | X | X | X | X | X | X | X | |
| High Performance | X | X | | | | X | | |
All-Purpose Fishing Boats
All-Purpose fishing boats also come in aluminum and fiberglass models. These boats are versatile to where you can do just about any fishing on them. They are not made for high performance, although some make does offer high-performance all-purpose boats. 
Since all-purpose boats are the next best thing to getting a specialized fishing boat such as a Bass Boat or Catfish boat, the all-purpose ship can be used in a variety of bodies of water. Generally, all-purpose ships are not as expensive as you may think at first. 
The average cost of an all-purpose boat is between 100-200 per month. These boats tend to be low maintenance, other than engine upkeep, these types of the vessel only need a wash here and there. A gallon of boat soap (click to check out on Amazon) and a scrub brush is all that is required there. 
With an all-purpose boat, the operating costs are relatively low, including insurance, as well as fuel for the ship. 
Bluewater Sport Fishing 
These models are a great choice if you are looking for a sport luxury feel to your boat. They have comfortable seats as well and some T-top options that can help if you like to fish in the rain. The Bluewater sports entry-level boat is an excellent start for flat lakes. 
The inshore models are designed for use in areas where the lake is relatively calm, and possibly not too large. These models have a flat bottom with an open-top, making it the perfect model for an afternoon boat ride. 
These types of boats are great for family adventures, close to home, maybe sitting at the lake in a privately owned boathouse. The Bluewater sportfishing boats are suitable for the company, usually seating at least four people, including the sailor. 
The Bluewater sporting boats have only inshore and offshore models available at this time. 
Blue Water Inshore models
The Inshore models consist of at least one dry bay, one live well with proper drainage. The boats are a well-balanced seating system allowing you to choose between seating types. The cooling seat option is available at no extra charge. This feature is excellent on an inshore boat, as it allows you to have lunch with the family out on the lake. 
The Inshore models offer some neat dry area's and keep the components of the boat separated in a way that prevents unwanted corrosion, or destruction of the goods in a dry bay. The inshore models are for family enjoyment than fishing. Even though they lack the storage space for several fishing rods such as the Bass Boats, these boats are much better for a weekend on the lake. 
The Blue Water Flycaster 160, is the second option for the Inshore models. The Flycaster series has about 115 Hp and can hold 550lbs. You could have up to 4 people in the total boat space-wise, but these do mostly have a single bench seat in them. 
The Flycaster has room for two poles, as the pro boats can hold more. The Flycaster is an excellent boat for a person who frequently goes out to the lake with maybe one or two people at most. 
Here is an excellent video explaining the Bluewater Pro
The Blue Water Off-Shore Models
These all-purpose ships are made for a choppy waters. They are made to take offshore, for a cruise, or even just a quick journey to a nearby island. The minimum size is going to be in the 21' class of boats. 
You can fish and dive from these boats. One feature that stands out the most in this series is the dual battery systems come standard with an electronic lockable box. This size boat usually has a 100-gallon fuel capacity, making it perfect for any medium size trip offshore. 
Some fun things to do in these all-purpose boats are:
Scuba diving
Offshore fishing
Small ocean travel
Shore sightseeing
Dolphin searching
Whale spotting
Island travel
Water skiing
Water sailing 
AlumaCraft Boats
Aluma Craft is a manufacturer that makes all types of boats similar to Ranger. Allumacast is focusing mainly on fishing ability with their series. What makes alumna craft stand out the most is that no matter which series you choose, you must build it. 
The Aluma Craft boats are made with high-quality aluminum and come at either 60 or 70 horsepower models. Most of the Alumacraft models come with at least 8-foot road storage and 8-foot storage ports. The voyageur series is going to be the Alumacraft all-purpose boat series. These are lightweight boats, made primarily for calm waters. 
They do boast about being able to go anywhere; however, I would think twice about taking these boats offshore. They are perfect for the lake or an afternoon of some good fishing. The Voyageur series do not come with a large amount of horsepower; these boats are slow-moving. 
They do, however, have the patented AlumaTrac gunnel system, which is best in its class. The live well is rather large, also letting you spend more time at your favorite spot. Their concept is giving you less power, but more room to do what you love. 
Check out Alumacrafts YouTube channel here. 
Campion 
Campion Boats pride themselves in making memories more than boats. This company builds high-quality ships to spend time with the people you care about more than fishing.  These all-purpose boats are designed with the family in mind. 
Campion does make fiberglass boats instead of aluminum boats. The Canadian company is family owned and operated. Even though they do build other types of boats, the All-purpose line is by far one of the best available. 
The Campion does not come with fancy cutting boards, but it does come with a good-sized motor and many compartments. The 300-horsepower motor allows you to spend more time on the water or camping offshore, than travel time. 
The wrap-around seating and rear trunk space make a day trip in this boat a day to remember. If you are looking for a high-quality All-purpose boat, We recommend the Allante series from Campion. 
Pontoon Boats
These Freshwater fishing boats are more for cruising the waters with large groups of people. They use a multi-displacement type of hull and move very slow. However, they can hold large amounts of weight. Sometimes up to 15 people can be abroad one pontoon boat. 
There are pontoon boats of all sizes; however, for this article, we are only focusing on the fishing pontoon boats. Some luxury models will have bathrooms such as a Yacht or even lakeside patios. The pontoon portion refers more to the Hull of the ship. 
The characteristics of a pontoon are the multihull, single-engine, and relatively flat deck with walls. Pontoon boats do have a higher maintenance cost than other ships, mostly individual manufacturer-specific maintenance. 
Pontoon boats do require an exclusive trailer to haul them around, known as a pontoon trailer. 
The pontoon boats can be used for:
Freshwater fishing
Day Cruising
Water Sports
If you are thinking of a pontoon boat, this video explains some of the common concerns owners have. 
Sunchaser Pontoons
The Geneva Fishing pontoons from Sunchaser have 9-floor plans to choose from. Each Floor plan gives you the option of seat placement and size. All Pontoons are roughly the same rectangle shape, with the engine being placed in the back of the boat. 
Sunchaser gives the best pontoon boat warranty out there. They offer you a lifetime on the engine of the boat, as well as six years on all components, carpet, and upholstery. The fishing station is typically towards the back of the ship with a decent live well and rod holders. 
Sunchaser offers some premium packages that you can cater to your wants when purchasing a new boat from them. For instance, the Fish package comes with the low back helm seats and bow port livewell. For comparison, the Big Water Edition comes with massive splash fins and solid Keels. 
Depending on what you want to do on your pontoon boat would depend on the options that you choose when you decide to purchase it. You can add a depth finder (link opens on Amazon) that comes in handy when trying to find the right swimming spot.  
Catamarans
Powerboats or multihull powerboats are known as Catamarans. These boats ride on two hulls similar to the pontoon, but with a different type of dual Hull system.  You can have a smaller "Center Deck" freshwater fishing boat, as these bigger Catamarans are meant for rougher waters. 
These are a dual-purpose boat made for both freshwater and seawater. Although the larger ones are generally only used at sea. They are not used in Freshwater too often unless you are tackling a sizeable rough body of water. 
These boats have great cabin and deck space. Perfect for an overnight stay on a lake or in the ocean, these boats are smooth compared to the monohull center deck boats. They feature some excellent round seating, plus the captain's deck, and the sleeping cabin space below. 
There are two leading manufacturers of Multihull powerboats. 
Leopard Catamarans
The Leopard Catamaran power multihull boats feature an excellent cabin space below, as well as a classy walk-around deck. The interior is where leopard power catamarans shine the most. They look and feel like entering a class A RV. 
The doors do not feel like they are plastic, and if you forgot you were on the ocean because of how smooth the wake is, you would not be alone. These boats mostly feature a house inside the cabin, with stoves, showers, bathrooms, tables, and even televisions.  
Aside from having two full sails, these catamarans also have two 29 horsepower motors and hold about 95 gallons of fuel.  These beasts are not only spacious for a family but have sleeping quarters for a boat crew as well. 
You can take an interactive tour of the leopard catamaran here. 
Here is an excellent product video for the Leopard Catamarans. 
World Cat Catamarans
World cat is the other manufacturer in the Catamaran style powerboats. These boats feature more engine power than sail power. Although they have cabins, they are not where the World Cat shines with its brand as opposed to the Leopard catamarans. 
The deck of the boat is something made in movies, there is a live well, and plenty of family gathering space. The Garmin screens that are built into the World Cat Catamarans do this boat wonders as far as digital navigation. 
The Port door is easy to use for an afternoon of scuba diving, and one of the best features to date is the water wash when coming back on deck.  It has warm and cold-water options. These boats are more for style and luxury than fishing. If you had to stay the night somewhere, we would want to be on one of these boats. 
| | | |
| --- | --- | --- |
| | World Cat | Leopard |
| Sail Option | | X |
| Horsepower | 2 X 425 | 2X 29 ( 2 X 320 with no sail)  |
| Luxury cabin | | X |
| Luxury Deck | X | |
| Large | | X |
| Good Sized | X | |
Check out this walkthrough of the World Cat 400DCX here: 
Walkaround 
The Walkaround boat is the best of both worlds, featuring a single hull but maximized cabin space this boat is probably the most popular type of cabin boat available. Made for both freshwater and saltwater, the 360 access provides the most fishing exposure possible. 
You are going to want to make sure that you get one with a berth and toilet for overnight stays. They do offer models that have the most basic cabins, but if you are going to get one of these, there is no point without the cabin.  One of the other styles would be a better choice. 
The Walkaround is made for fishing, most of the fishing racks, are mounted to the Helm or other areas, to allow the most room for fishing.  You can find these types of boats designed for just about anything from speed to long-distance travel. 
This boat doubles as a fishing boat and a family boat with all things considered. The maintenance costs are relatively low; however, you do need a place to store this boat. They are at minimum 20 feet and fair best at a marina or lake storage area. 
Back Cove Yachts 
Back Cove Yachts are an elegant style of walkaround boats that feature the best of these types of vessels. The Yachts themselves are a single walk around the hull with a pilot and co-pilot options on the top captain's deck.  In the Helm Station, there is also a table, cooktop, and microwave. 
The cabins on these Yachts are quite comfortable. If you don't want to spend the money on a multi-leopard hull, this is the next best option. Featuring a guest cabin for whoever goes with you, these ships will never leave you traveling alone. 
These are meant for you to spend the afternoon in the cove comfortably or an overnight stay. The Back Cove Yacht company is found in Maine.  These boats are on the heavier side and only travel about 30 knots maximum, which is still about 34 MPH. 
You will also need storage for these boats as they are relatively large. The overall length is about 47 feet in total. However, it can carry about 30,000 pounds and holds 400 gallons of fuel. 
Take a Virtual Tour of the Back Cove yachts 41 Model here. 
Final Thoughts/Conclusion 
Aside from some of the maintenance costs associated with owning a boat, it can be one of the most rewarding experiences ever.  You can get to fishing spots that otherwise would be off-limits, and sometimes the fishing is better because of it. Batteries, fuel, and minor repairs can eat up your pocketbook quickly; however, the experience itself is what is most rewarding.  
No matter which boat you choose to take the helm, you will have a rewarding experience every time. 

"Life without a defined purpose is similar to a boat without a crew in the middle of the ocean."
————Debasish Mridha———–