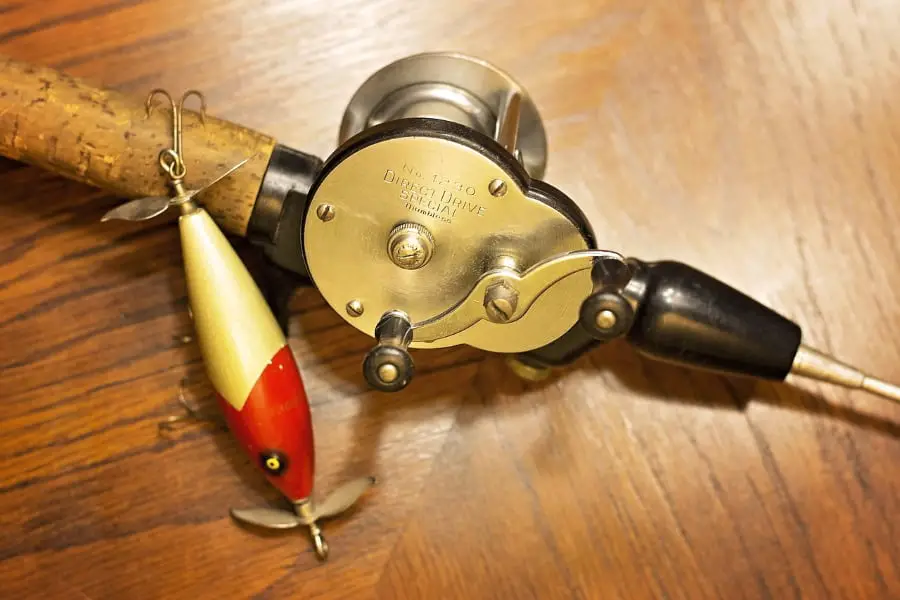 Anglers the world over tend to be the tinkering type, highly sensitive to what gear they are using and how it might affect how much they catch. Choosing a fishing line to pair with a baitcaster reel is part of that same thought process. Making the jump to a baitcaster reel is serious business in its own right, so making sure you choose the right line is paramount.
So, can you use monofilament fishing line on a baitcaster? Yes, you can use monofilament fishing line on a baitcaster reel, but whether it is the best choice depends on the type of fishing you plan to do, the expected weight on the line, and your experience level with a baitcaster reel.
We are going to explore the pros and cons of the various types of fishing line, which one is best for you and your setup, and what are some of the best options on the market? Use this article as a guide for choosing the right type of fishing line for you and your baitcaster setup.
Monofilament vs. Fluorocarbon vs. Braided Fishing Line
Of the many types of fishing line, monofilament, fluorocarbon, and braided tend to be the most popular and for good reason. All three have a number of good qualities, and it is less a question of which of the three is better and more a question of which one is right for your needs.
Monofilament, fluorocarbon, and braided fishing lines differ in several important ways, however. The main areas of difference between monofilament, fluorocarbon, and braided fishing lines are in their visibility, strength, knotability, and density. Knowing the pros and cons of each type will help you choose the right one for your baitcaster reel.
Visibility
Having a fishing line with little or no visibility in the water is every angler's hope and dream. While both of these fishing lines offer very low levels of visibility, fluorocarbon offers a "clear" advantage over monofilament – literally.

Fluorocarbon fishing lines offer a highly transparent fishing line, while their monofilament counterparts cannot match that transparency. While monofilament lines still offer a low level of visibility, they simply cannot match that of fluorocarbon fishing lines.

Braided lags behind in the visibility department. Even the best braided lines offer an opaque quality at best and can be easily detected in clear waters. If you're working with line shy fish or in clear waters, braided is probably not the best choice.


Strength
In terms of fishing line, measuring and talking about the line's strength can mean a number of things. For one, it can mean the durability of the fishing line and its ability to withstand abrasions. Additionally, it can be in reference to the line's ability to handle weight in proportion to the line's diameter. Lastly, strength can also be measured in a line's stretch and its ability to withstand minor snags.

In terms of the ability to withstand abrasions and the ability to handle weight in proportion to its diameter, fluorocarbon fishing lines are superior to monofilament. Due to its nature as a harder material than nylon monofilament, fluorocarbon holds up better to various forms of wear and tear.  It also tends to have a higher breaking strength than comparable monofilament lines.

When it comes to stretch, monofilament fishing lines have the upper hand over fluorocarbon lines. Stretch in a fishing line can help to allow for a larger margin for error for the angler. If your drag line snags or you set the hook too aggressively, the stretch capabilities of a monofilament line can help to prevent the line from snapping.

Braided fishing lines stand up incredibly well to both abrasions and weight in proportion to its diameter. In this way, braided can be seen as superior to either monofilament or fluorocarbon. Where braided fishing line lags behind is in the stretch factor, as it offers little to no stretch. This can be both a pro and a con, as it allows for better feel but means less forgiveness in the line.


Knotability
For those with fishing experience, you'll know the importance of a fishing line's knotability. The weakest point in a fishing line is by far the knot, so having a line that knots well and retains its strength when knotted is critical.

In terms of knotability, monofilament is far better at retaining its strength when knotted. Being a suppler material allows monofilament to knot better, a quality that also plays a role in its stretch capabilities.

As a stiffer material, fluorocarbon doesn't always sit evenly when knotted. When working with fluorocarbon lines, you'll want to take care to make sure each knot seats correctly to help prevent any potential for slippage or breaking.

Braided fishing line also struggles in the knotability department. Being braided from multiple strands of material means it doesn't have the same smoothness and suppleness as monofilament, detracting from its ability to hold a knot well and retain its strength.


Density
Many anglers may not consider the density of their line and how it might play a part in the grand scheme of things. They also may not be very successful anglers. The density of the line will have an effect on your lure and its action, thus knowing what your situation calls for is pertinent.

While there's no objectively better or worse option, monofilament and fluorocarbon differ in their densities and will thus be better suited to different scenarios in that regard. Monofilament fishing lines are less dense than water, allowing them to rest on the surface and making them ideal for fly fishing and top-casting. Fluorocarbon will sink in water, making it better for trolling and dredging the bottom.

Braided fishing lines also offer a denser option for anglers than monofilament lines. Again, this is neither good nor bad on its own, and whether this is preferable or not depends on your specific situation.
In addition to these main differences, there are other factors to consider when choosing between monofilament and fluorocarbon fishing lines. Monofilament lines tend to be easier to cast and work with, thus making them better for less experienced anglers. Fluorocarbon lines tend to last longer than comparable monofilament lines. Lastly, monofilament lines tend to be less expensive than their fluorocarbon competitors.
For a more indepth breakdown of the differences between monofilament and fluorocarbon fishing lines, check out this article.
With all of this in mind, you'll have to consider your situation and what it demands to know what kind of line is best for you. Knowing the pros and cons of each fishing line type and how they relate to what you need should help you make the right decision.
Best Fishing Lines for Baitcaster Reels
Once you have made your choice on the proper type of fishing line for you and your baitcaster setup, you will want to purchase a high-quality fishing line to ensure you get the best results. But with a saturated market, it can be difficult to know which fishing lines are the real deal and which ones are imitators. Use this list as a guide to finding a high-quality fishing line, regardless of which type you're looking for.
Monofilament Fishing Lines
KastKing Masters Tournament Grade Monofilament
One of the top monofilament lines on the market, you can't go wrong with the KastKing Masters Tournament Grade line. This line offers excellent strength and is incredibly easy to spool to a baitcaster reel.

This line offers a smaller diameter than other lines of similar strength.  It also offers a range of color options, including a clear one. In addition, this line offers excellent knot strength and shows a low memory. This helps to allow for precision presentations and helps for easier casting. This line is an all-around great option for anglers looking for a monofilament fishing line.


Berkley Trilene XL Mono
As with all monofilament lines, the Berkley Trilene XL Mono is a great fishing line for any beginner. Its low cost makes it a great option for the novice, but the line's workability is what makes it great for those just getting started.

A smooth, supple fishing line, the XL Mono offers excellent feel and forgiveness on your casts. This added control will help you to avoid backlash and the resulting bird nest– every angler's worst nightmare. While monofilament isn't the strongest type of line, this fishing line offers excellent strength and durability, making it an incredibly versatile fishing line.


Fluorocarbon Fishing Lines
1. Seaguar Abrazx Fishing Line
While all fluorocarbon fishing lines exhibit a high resistance to abrasion and strong durability, Seaguar Abrazx fishing line is a cut above the rest. Offering outstanding durability, this line is ideal for fishing around heavy cover like blowdowns and stumps.

This line is also 100% fluorocarbon, meaning its practically invisible when in the water. Being one of the main reasons you might choose a fluorocarbon fishing line in the first place, being practically invisible means you're getting what you paid for in this fishing line.

2. Sunline Super FC Sniper
Another great fluorocarbon line that offers near invisibility, the Sunline Super FC Sniper, is a great option for all anglers. Being as clear as it is, the Sunline Super FC Sniper line is also incredibly resistant to UV rays, which will prevent it from breaking down.

Another great quality about this line is that it's made from triple resin process. This helps to make it water and abrasion resistant. This water resistance helps it to retain its shape and properties.  It does this by avoiding water absorption that could affect the line.

3. Seaguar Red Label Fluorocarbon
Invisible to fish in the water, the Seaguar Red Label Fluorocarbon offers anglers an excellent fluorocarbon fishing line option. It also offers excellent abrasion resistance and hold up incredibly well over time.

Its resistance to UV light and water help to prevent premature breakdown, and ensures the line retains its qualities over its lifespan. With excellent knot strength, this line holds up under well under the elements.

Braided Fishing Lines
PowerPro Super 8 Slick Line
As with any fishing done with a casting reel, it's important to find a line that comes off the reel cleanly to allow for increased feel and accuracy. This can be especially true when selecting a braided line, as they can sometimes be a bit more finicky off the reel than other types of line.

The smoothness of the Super 8 Slick Line will help you consistently make the presentations you want to be making. The reduced noise will also help in preventing unnecessary disturbances that could chase fish that might spook or be line shy.


Stren Superline Braid
Similar to all braided fishing lines, the Stren Superline offers excellent abrasion resistance and durability. This capability makes it an excellent option for fishing around coverage like rocks, docks, or other structures.

Additionally, this line features a special glide coat that helps to allow for a smoother cast coming off the reel. A low memory also helps to allow for consistently clean casts, which will allow you to consistently put out high quality presentations.
Hybrid Fishing Lines
Yo-Zuri Hybrid
For those struggling to decide between a monofilament fishing line and a fluorocarbon fishing line, you can avoid having to decide on one or the other by opting for a hybrid fishing line. Enter the Yo-Zuri Hybrid line.

This hybrid will give you the feel of a monofilament with the abrasion resistance and durability of a fluorocarbon fishing line. This flexibility makes the Yo-Zuri a great option for all types of situations.
As with all decisions listed in this article, the right choice will be dependent on your specific needs and situation. Whether you're topcasting, trolling, working around heavy coverage, or fly fishing, you'll want a fishing line to match that.

Best Baitcaster Reels
For those looking to find the right baitcasting reel for their needs, there are tons of options to choose from. You'll want to narrow your search by deciding on what is important to you and the type of fishing you're likely to be doing. For some, price will be a bigger factor than workability. Others might want something lightweight. Whatever you're looking for, use this list as a guide to get you started.
Abu Garcia Revo SX Low-Profile
One of the top baitcaster reels on the market, the Revo SX Low-Profile offers anglers a high-performance reel. A lightweight reel with excellent durability, the Revo SX will last for years and be well worth the investment. While easy enough to use for beginners, the price point might scare away some novice anglers. If you are not intimidated by the price, this reel offers a high-level baitcaster that will last for years to come.


KastKing Royale Legend Low-Profile
Another low-profile reel, the KastKing Royale Legend is an excellent option for beginners. Slightly heavier than the Abu Garcia, this reel offers excellent feel with the right amount of forgiveness. While not as durable as some of the other models on this list, the price point makes it a nice entry point into the world of baitcaster reels.


Daiwa Tatula Baitcaster Reel
A popular choice amongst professionals, the Daiwa Tatula comes in a number of different gear ratios to help meet your specific needs. In addition to being on the lighter side, this reel also offers incredible feel and smoothness, a must for those looking to consistently get high-quality casts out of their reels.


Piscifun Torrent
One of the best bangs for your buck reels on this list, the Piscifun Torrent offers a great value to anglers. With an oversized handle for improved control, the feel level on this reel is also off the charts. Though heavier than other models listed, this reel is also durable and built to last.


Shimano Citica
One of their more well-known names in the world of fishing reels, Shimano has been making quality reels for a very long time. The Shimano Citica comes with that legacy and is one of the better reels on this list. Lightweight and well-built, this reel is built to last and get results.
All these reels are high quality reels that will get you the results you want. Whatever reel you choose will come down to what price point you're comfortable with and what you ultimately feel the most comfortable with when on the water.

Closing Thoughts
In closing, choosing the right fishing line will come down to what you need that fishing line to do. While you can use a monofilament fishing line on a baitcaster reel, it might not be the best type of fishing line for your situation. Things like the type of fishing, durability, stretch, and knotability will all play a factor in what kind of fishing line is best for you. Using the lists above will help you to make an informed decision on both fishing line type and baitcaster reel.
And once you've made that informed decision, it's time to head out to the water.