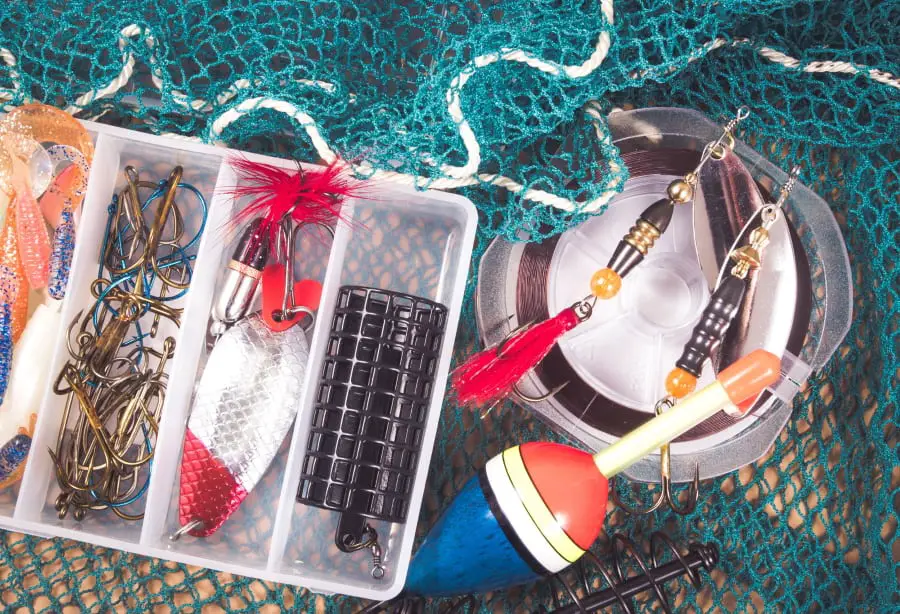 Online stores can be some of the best places to find fishing tackle in the twenty-first century. Not only can you find some of the more uncommon or international lures that your brick and mortar tackle shop might not have, but you can also usually get a good deal out of the bargain. Over 190 million people in the United States purchase goods online, and that statistic isn't likely to go down anytime soon. 
So what are the best online stores for purchasing fishing tackle? Here are 18 of the best shops you can visit online for buying fishing tackle and related gear: 
eBay
Tackle Direct
All Tackle
Jigging World
Triangle Tackle
Fish USA
Barlow's Tackle
Cabela's
Fleet Farm
Rapala
Tackle Warehouse
Marine General
Overstock Bait – Bait and Tackle Outlet
Musky Tackle Online
Thorne Brothers
Outdoor Pro Shop – Monster Fishing Tackle
Jammin' Jigs
Bitter's Bait and Tackle
No matter where you ultimately decide to shop for your tackle online, and no matter what kinds of fishing you like to do, one of these stores is sure to have what you need for your next trip. Keep reading to find out more about these online shops and what they have to offer, as well as the ins and outs of buying fishing tackle online in general. 
Advantages of Buying Tackle Online
A lot of the advantages of buying tackle online are advantages that apply to online shopping in general. But there are some advantages that are specific to fishing gear. Here are some of the benefits you can enjoy when you purchase your fishing tackle online: 
Cheap gear. Fishing tackle such as sinkers, hooks, swivels, and soft plastic baits can be bought in bulk online to save money. In comparison, brick and mortar tackle shops (many of which are "mom and pop" sort of establishments) cannot compete price-wise. Online stores also get large volumes of miscellaneous stock from manufacturer's overruns that allows them to sell the lures at a discounted price.

Great selection. By using an online catalog, you can have access to fishing tackle you'd have never seen in a physical storefront near you. Online shopping is also a good way to access international tackle and other fishing products from abroad you normally wouldn't have access to otherwise.

Wide variety. If you're looking for a particular color on a lure or want to customize your tackle, online shops often facilitate that kind of fine-tuning for gear, whereas you'll have to make all your modifications aftermarket if you purchase through a brick and mortar shop. A small tackle shop might only have three color varieties in a certain lure to save on stocking costs, while an online shop will usually have two or three times that many to choose from.

Convenience. There's nothing quite like getting a package of fishing tackle delivered directly to your doorstep. It's like Christmas for anglers. You don't have to waste gas going to the store and don't have to fight the hustle and bustle of the crowds. For introverted fishermen (and there's more than a few out there), being able to buy tackle without going to a shop is heavenly. 

Easier to send tackle as a gift. If you know someone who is an avid fisherman, but they don't live nearby, online tackle shops make it easy for you to purchase tackle for them and send it directly to them rather than having to buy tackle from a shop and ship it yourself.

Comparison shopping. Online shopping allows you to compare the prices for the same kind of tackle at multiple different websites, so if you're trying to get the absolute best bang for your buck when you're buying your fishing equipment, online stores are the way to go.

No pressure from pushy salesmen. For anglers who are more reserved and don't want to have a half-hour conversation with old Jimmy down at the tackle shop every time they want to buy a new piece of gear, online catalogs allow you to shop at your own pace without having an over-eager clerk dogging your step the whole time.

Buy used or damaged. Many retail outlets don't sell discounted items once they've taken some dings or scratches, but there are several online outlets where you can get slightly damaged goods at a discount. These goods wouldn't pass muster to sell in a physical storefront, but often a little cosmetic damage means big savings for you when it comes to more expensive gear. 
There are plenty of good reasons to try out online shops, so whether you're looking for a good deal or just want as many options as possible, an online store that specializes in fishing tackle has got what you want.   
Disadvantages of Buying Fishing Tackle at an Online Store
Even though there's plenty of advantages to buying your tackle from an online store, there are some drawbacks as well. Here are some of the downsides to consider when getting your fishing tackle from an online store: 
Bad for the environment. One of the downsides of getting your tackle online is that it generates a lot of extra plastic and cardboard in packaging that you wouldn't be supporting if you were buying at a physical storefront.

Shipping issues. It's usually not a good idea to get fishing tackle shipped to you online right before a big fishing trip, because it's not uncommon for stuff ordered online to get delayed during shipping or otherwise run into trouble.

Fraud risk. If you buy tackle from an online store, it's important to buy your tackle from a reputable source such as the ones listed in this article. Otherwise, when buying online (especially from fly-by-night international importers), you run the risk of losing your money and getting nothing in return, with no real recourse for a refund. Check return policies and user reviews carefully before buying fishing tackle from an online store.

Less contact with other fishermen. One of the great things about going to a brick and mortar store is that you have the chance to chat with other fishermen, especially if you're going to tackle shop that is near the area where you're planning to fish. Local tackle shop clerks often have the latest fishing reports and gossip.

Tricky returns. Unlike a physical storefront, where you can go back to the store with your defective merchandise in hand for an exchange or a return, returning fishing tackle that you don't want to an online vendor can be difficult. Some online stores don't allow returns or exchanges and sell their equipment as-is, while others just make the process complicated.

False advertising. When you're buying a piece of gear in a store, you can put your hands on it—you know exactly what you're buying. When you're buying online, you are buying based on a description or a photograph, and what you end up getting in the mail might be different or of poorer quality than what you thought you were purchasing.

Not supporting local economy or small business. Small mom and pop fishing gear outlets at popular fishing destinations depend on physical sales in order to keep their doors open, and more and more of them are going out of business all the time. This doesn't mean you should avoid online shopping entirely, but you can always pop in to support your local tackle shop too. 
The disadvantages of online shopping can be somewhat reduced by being a careful online shopper, but there are also other drawbacks you should take into consideration before choosing an online store to buy fishing tackle. 
If you're worried that buying stuff online is bad for the environment, there are other ways that you can contribute to environmental protection and awareness in order to offset your purchase.
Likewise, if you're concerned that buying too many things online will hurt your local economy of small business-owners, you can always just purchase some of your tackle online and some of your tackle at the tackle shop, or buy all of your lures online but buy all of your live bait local. This way, you can still enjoy the advantages of online fishing tackle and get access to any sort of equipment you want.   
How to Buy Fishing Tackle at an Online Store
There are many different ways you can approach buying your fishing tackle in an online store. Knowing what your objectives are while shopping is crucial for knowing the search keywords necessary to find the equipment you want. These are some of the different ways you can buy fishing tackle at an online store. 
Buying Tackle by Type
Most online fishing tackle stores are immense, and you can get just about any type of fishing tackle you can think of through an online outlet, up to and including heavy saltwater rods and reels. Here are some of the categories of fishing tackle available at online stores: 
Lines (mainline and leader lines)
Fishing hooks
Tackle boxes
Lead weights
Swivels
Terminal tackle
Basically, if it's a piece of tackle you can use during fishing, there is an online store who not only sells it but specializes in it. That goes for fishing tackle along with just about anything else you can think of purchasing. Searching for tackle online by type is one of the ways that you can effectively comparison shop for a certain type of fishing equipment between different online tackle shops. 
Buying Tackle by Brand
Another way for people to shop for tackle online other than by type is to shop by brand. This allows you to look at all of the brands that make a particular lure and not only see which brands make that kind of lure, but also what type of tackle is available from each brand. 
There are many brands of tackle and fishing gear (such as Rapala or Berkley) that have been around for decades and have earned a reputation for good customer service and good gear in the meantime. When shopping for fishing tackle online, it's a good idea to check brand websites to find an extensive catalog of everything they have to offer.
In many cases, checking a brand website can often lead you to discover tackle available from that brand that you wouldn't have seen in a brick and mortar store that doesn't carry the brand's entire line of products, but only their most popular ones. 
Best Online Shops for Fishing Tackle
What follows is our list of the best digital stores available for buying fishing tackle. Some of these shops specialize in either saltwater or freshwater, and some even specialize in certain types of fish (like Musky Tackle Online), but they all share the quality of having a high quality, large selection of tackle available for online purchase.
There's nothing for you to lose by checking these online stores out whenever you get some free time to window shop, so be sure to check a couple of them out and see if you can find anything you like. 
Buying Fishing Tackle Through Online Stores Can Improve Your Shopping Experience
Between the money you can potentially save through comparison and the sheer number of lures, baits, and gear available in online stores., there are tons of reasons why you should consider doing at least some of your tackle shopping through an online outlet.
If you're not comfortable buying things from independent digital merchants on sell-your-own sites like eBay or Craigslist, there are a ton of other reputable online stores available for you to browse at your own pace.
The fishing was good; it was the catching that was bad. – A.K. Best