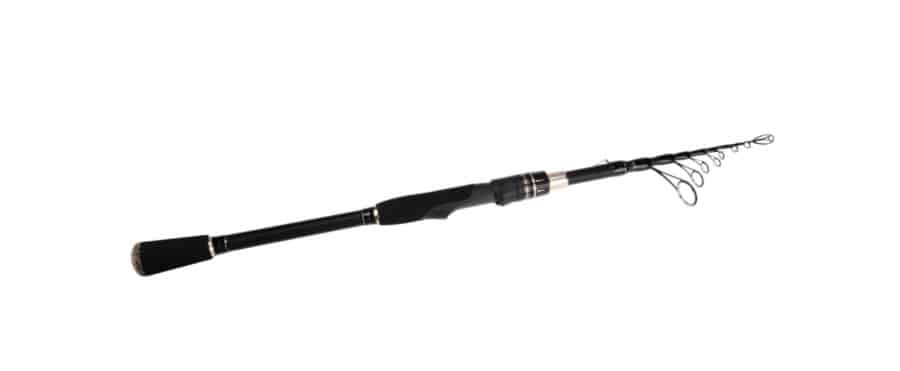 When it comes to fishing, telescopic fishing rods are the ultimate in versatility and portability. But are they as good as regular fishing poles?
Telescopic fishing rods are an excellent option if you're looking for a cheap pole that you can throw in your backpack. The best thing about them is that they are very portable and easy to carry with you anywhere. However, they're not very durable, and they don't last very long if you use them often.
In years past, most telescopic fishing rods were junk. But they have come a long way in recent years. Today we're going to take a more in-depth look at them. We also have some great suggestions if you're in the market for a new pole. Let's get started!
What Exactly Are Telescopic Fishing Rods Anyway?
In the most basic terms, telescopic fishing rods are fishing poles that collapse into themselves. Telescopic rods are retractable. They are separated into sections that fold down to very small, making these rods extremely portable. You know what that means? That means that you can carry them with you anywhere and go fishing at any time that the mood hits you!
Many modern telescopic rods have a lot of the same components as regular fishing rods. So, depending on the rod, you're not necessarily sacrificing anything by using this type of pole. Of course, this is largely dependent on the individual rod. Some are much better than others. And the truth is, some are just plain junk.
Watch this short video to see a telescopic rod in action:
What Do Anglers Say About Telescopic Rods?
When it comes to telescopic fishing rods, there are mixed reviews. Some anglers say they like them well enough, especially for catching bait fish or small fish species. Hikers and backpackers love using telescopic rods because of their lightweight design and because the rods fit into a backpack. People who love their telescopic rods love them because they are super portable, and they're cheap.
However, many anglers complain about the poor quality of these poles and their lack of durability.
As one avid fisherman put it when asked if telescopic rods are any good,
"As with many things in life, the answer depends greatly on the usage and the treatment.  If you want something simple to throw in the back of your car to fish for panfish on the way home from work, you'll be fine.  If you're chasing bluefin tuna off the coast of Massachusetts – not so much." (source)
Not the Best Rods
There is much agreement in the fishing community that telescopic rods aren't the best rods. Many anglers believe that if your primary concern is saving space, then you'll be better off getting a high-quality multi-piece rod. You'll pay more upfront, but you'll be much happier in the long run.
Another angler summed it up like this,
"I've had numerous telescopic rods but never use them anymore. They tend to have poor actions, tend to be too short for what I want to do and they break."
What Are Telescopic Rods Made Of?
Generally speaking, telescopic rods are usually made of inferior quality materials, often cheap fiberglass.
Traditional rods are often made of high-quality graphite, fiberglass, or a combination of the two. Fiberglass offers more durability and flexibility. The downside is that fiberglass poles aren't as sensitive as graphite or combination rods. 
The reason people like graphite rods is that they let you feel even the slightest nibbles. But having said that, graphite poles are also more brittle than fiberglass poles. And if you get too much weight on your line, graphite rods can break in half. Your best play is to go with a fiberglass and graphite composite. This will get you the best of both worlds – leaving you with a stronger, more sensitive rod.
As I've mentioned, you will probably be better off by getting a multi-piece pole over a telescoping one. But understanding that, it's also worth noting that there are some pretty good quality telescopic rods on the market. You just have to look for them. In a minute, we'll suggest our favorite six telescopic rods.
Things You Should Consider Before Buying a Telescopic Fishing Rod
Materials
Weight
Durability
Length
The Advantages of Telescopic Rods
If you like to be spontaneous, then you'll likely love a telescopic fishing rod. They require far less planning. 
And as you've probably already guessed, we are quite fond of the portability of telescopic rods. It's a major plus to be able to go fishing any time you feel the urge. Telescopic rods make traveling so much easier because you can fit them anywhere. You don't have to worry about messing with expensive carrying cases. You also don't have to check your pole when you travel or fret over airport handlers breaking it. Be sure to read this article covering what you need to know about taking your fishing equipment on board an airplane.
Beyond being extremely portable, some telescopic rods are stronger than regular fishing rods. The fact that this rod is in sections means that the weight and stress are more evenly distributed along the length of the pole. This feature makes these poles less likely to break.
As we've been discussing, another major plus for telescopic rods is the cost. These poles don't cost much. And often, you can find inexpensive rod and reel combos. Some even come with the line, hooks, and lures.
Other advantages to using these rods include:
Flexibility
They cast far
Convenience
Powerful luring ability
The Disadvantages of Telescopic Rods
Many of the problems associated with this type of rod are a direct result of operator mistakes. Because of this, you need to be aware of the vulnerable points of this rod. For one thing, if you open or close the rod too quickly or too often, you could break it. As I mentioned earlier, quickly whipping the rod into the extended position is one sure-fire way to ruin your pole. You must take your time and use patience and care when opening and closing your telescopic rod.
You can also have trouble if you get sand or salt in the sections of your pole. And telescopic rods can be difficult to clean.
Another potential problem with telescopic rods is that the sections can rotate or slip into each other if they are not locked properly into place. This can quickly become a disaster if you are trying to cast or reel. Make sure each section is fully locked.
Some other downsides to using a telescopic pole include:
They can get stuck in the folded down position
They wear down more quickly than regular fishing rods
The opening and closing degrades the rod over time
They don't have good action
They're better suited for small fish or bait
The Top 6 Best Telescopic Fishing Rods
Here are our favorite six picks for the best telescopic fishing rod this year.
1. Sougayilang Carbon Fiber Telescopic Fishing Pole
Our first contender for the best telescopic fishing rod this year is the Sougayilang Carbon Fiber Telescopic Fishing Pole (click link to check price on Amazon). This rod comes in a combo set that contains everything you need to go fishing. With this set, you get a telescopic rod, reel, line, lures, and a carrying bag. You can use this rod in both saltwater and freshwater.
This pole is made of high-density carbon fiber mixed with fiberglass. This composite makes the rod hard, lightweight, portable, and durable. The rod also features an EVA foregrip for added comfort. The light, hard guide rings are made with SIC ceramic, and they provide excellent heat dissipation.
Another thing that we love about this rod is that it comes with one year of free service. So if you have any trouble with your pole, Sougayilang will take care of it.
Pros
Comes with a one-year warranty
Available in several sizes
The handle is also telescopic
Fiberglass/carbon fiber construction
Ceramic guides
Excellent customer service
Cons
The carrying case isn't big enough to fit much extra gear
Reel quality is okay, but not great
There are some issues with quality control
2. Hurricane Mako 7-Foot Telescopic Rod
Our next contender for the best telescopic fishing rod is the Hurricane Mako 7-Foot Telescopic Rod (see on Amazon). This pole is all business, no-frills. It is heavier than most of the other rods on our list, which means that it's better equipped to handle bigger fish.
Unlike some of the combo sets on our list, this rod doesn't come with a reel or a carrying case. You just get the high-quality rod. 
This pole features an all-fiberglass construction with ceramic guides. And you can use it in saltwater or freshwater.
This telescopic rod comes in seven and eight-foot options. It's not geared towards smaller freshwater fish. But it does great with largemouth bass and carp.
Pros
Better quality and more heavy-duty than other telescopic rods
Excellent price
Doesn't come with a junky reel
Casts well
Impressive sensitivity
The reel seat is effective and simple
Ceramic guides
Provides long-term durability
Cons
Doesn't collapse down as small as other poles
Heavier than most of the others
No reel or carrying case included
Rod is a bit chunky
3. Sougayilang Portable Telescopic Fishing Pole
Sougayilang takes a second spot on our list with their Portable Telescopic Fishing Pole (click link to compare on Amazon). We like this rod even more than the previous Sougayilang set because it has greater integrity of the folding rod butt. This pole is more straightforward and potentially less problematic.
The materials used for this rod and guides and the overall design are the same as the previous Sougayilang pole. It comes with the same one-year warranty too. The main differences between this rod and the previous Sougayilang pole are found mainly in the aesthetics. This rod also includes hooded stainless-steel reel seats. That means that it will provide greater protection from saltwater.
This rod comes in several different sizes, and they all fold down to just 20 inches when closed. This is truly impressive, especially for an 11-foot pole!
This pole doesn't come with a carrying case. But that's okay. Sougayilang's cases aren't the best anyway. You'll be better off buying your own case separately.
Pros
Comes with a one-year warranty
Hooded stainless steel reel seats
You can extend the rod butt
Available in many different lengths
Excellent customer service
Cons
Doesn't come with a carrying case
Be careful with the extending rod butt; it has the potential to break
The reel is okay, but nothing special
4. YONGZHI Kids Telescopic Fishing Rod
If you're looking for a budget-friendly telescopic fishing rod for the kids, then look no further than the YONGZHI Kids Telescopic Fishing Rod (available from Amazon). This combo set includes everything that you will need to go fishing. It comes with the telescopic rod, a reel, line, lures, hooks, and a carrying case. The quality of the reel and tackle is on the lower end, but we still included this set on our list because of the quality and price of the pole.
This rod is the perfect length for kids at just five feet. And it collapses down to 14 inches when it is closed. We also really like the ceramic guides and carbon fiber blanks.
This is an excellent setup to teach kids to fish. The reel likely won't last as long as the rod, but it will certainly work long enough for your little one to catch the fishing bug. You can always upgrade the reel and tackle later.
Overall, we found this to be an excellent value. This telescopic fishing rod is ideal for little hands. It could work nicely as a backup or emergency setup too.
Pros
The perfect introduction to fishing for the little ones
Killer price
Comes with a nice variety of tackle
Comes in three different color options
Super compact
Cons
The tackle that comes with this set is perfect for beginners, but it's not the highest quality
Only suitable for smaller fish
The reel quality is not the best
5. PLUSINNO Carbon Fiber Telescopic Fishing Pole
Our next contender for the best telescopic fishing rod this year is the PLUSINNO Carbon Fiber Telescopic Fishing Pole (click link to check price on Amazon). This rod comes with a reel and is ideal for people looking for portability.
This rod comes in four different sizes. All of them are a bit longer than most of the competition. The PLUSINNO pole is made with carbon fiber mixed with a fiberglass composite. Like most of the other poles on our list, the guides are ceramic.
Usually, the reels that come with telescopic rods aren't that great. But this one isn't too bad. It offers accurate drag adjustments and smooth function.
This rod and reel set also comes with some pretty decent tackle. It's a lot better quality than what you usually get in these telescopic rod combo sets.
Overall, we found this combo set to be affordable and reliable. It comes with the telescopic fishing rod, reel, lures, soft baits, hooks, weights, and a nice carrying case.
Pros
The included tackle and reel are excellent quality
We really love the carrying case
Ceramic guides
Comes with a one-year warranty
Aluminum reel seat
Cons
The rod doesn't break down as small as the others
Some quality control issues
You may see some problems with the rod blanks turning while you're using them
6. KastKing Blackhawk II Telescopic Fishing Rods
Our final contender for the best telescopic fishing rod this year is the KastKing Blackhawk II Telescopic Fishing Rod (link to Amazon). This rod is superior to all other collapsible rods on the market, in our opinion. It certainly gets the best reviews and if I was going to buy one for myself today, this would be the one I would get.
Like the Hurricane rod that I mentioned earlier, this one doesn't come with a reel or any tackle. You just get the incredible pole. It is more expensive than the others on our list, but there is no denying the exceptional quality.
You can get this rod in 14 different lengths and actions. You can even find baitcasting options. Whatever type of fishing you're planning on doing, KastKing has a telescopic rod to match it.
The KastFlex Toray 24-ton carbon matrix blank provides some impressive sensitivity with this pole. The reinforced reel seats and EVA rod butt contribute to the rod's durability. However, unfortunately, the rod guides are not ceramic. One thing I need to mention with this rod is that using braided fishing line can damage the guides so stick with mono or fluorocarbon here.
Pros
You can get this rod in 14 different lengths and actions
Available in baitcasting
Super sensitive
Reinforced reel seat and EVA handle
Comes with a one-year warranty
Cons
The guides are stainless steel instead of ceramic so they can be damaged if you use braided line
More expensive than the other rods on our list
Doesn't come with a reel or any tackle
The Bottom Line on Telescopic Fishing Rods
My original question was, are telescopic fishing rods any good? The answer is that it really depends on the pole. Some modern telescopic rods are pretty decent quality. But many of them are just junk. The main advantages of using a telescopic pole are that they are super portable, and they don't cost a fortune. But because of the quality issues with these rods, we prefer the higher-quality multi-piece travel poles.
If you understand their limitations, and if you search for higher quality poles, then you can find a telescopic rod that will serve you well. And if it doesn't last too long, at least it won't cost you much to replace it.
Happy fishing!