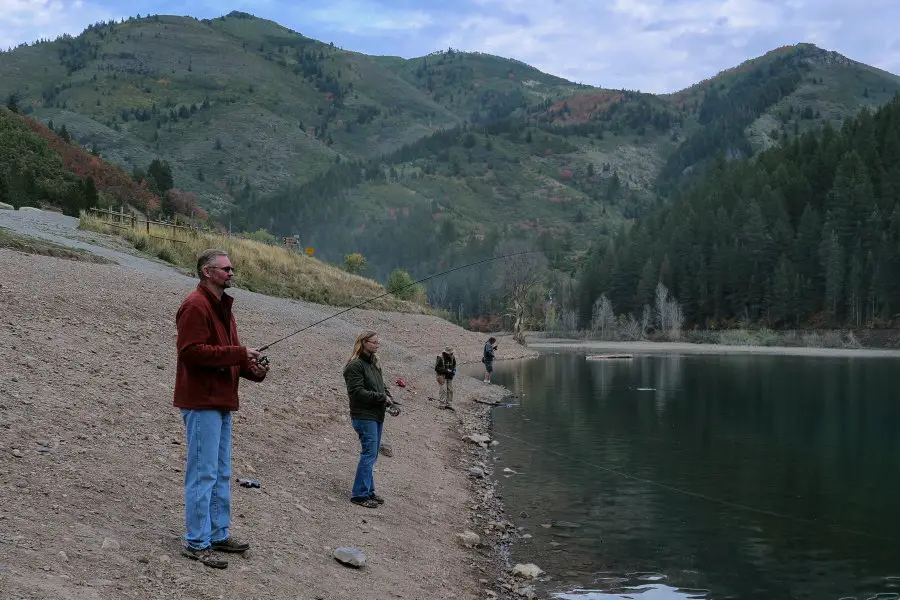 Fishing is a killer hobby. It doesn't require too much skill, it's tons of fun, and you get to eat what you catch (usually). But how much does it cost to get started? Do you have to spend a small fortune to catch fish? Let's find out!
While it's true that fishing can become a costly hobby, it doesn't have to be that expensive to get started. To start off, you will need a fishing pole and reel, some bait, and a license. All these things can be relatively inexpensive. Essential fishing equipment will cost around $100 to $150. Heavier duty equipment will cost a bit more.
Today we're going to go into more depth about all the gear that you will need to get started fishing. And we'll also discuss some ways that you can keep the cost down.
What Do I Need to Get Started Fishing?
To get started, you will need to buy these five essentials:
Those are the basics.  As with any hobby, the more involved you become, the more you will want to buy, but the list is what you need.  Besides a place to catch fish, of course.
How Much Does a Good Fishing Rod Cost?
When you're first starting fishing, trying to choose a fishing pole can seem overwhelming—between the ton of options and range of prices.  Here's the key–how long you want your fishing pole to last and what kind of fish are you trying to catch?
If you only plan on fishing a couple of times a year, then a cheap rod and some worms will do. On the other hand, if you plan on using your pole more often, you will invest in a more expensive rod.  You can find a decent quality rod for $20 to $60. A more heavy-duty pole will cost you anywhere from $70 and up.  
Keep in mind that you want to choose the right pole for the type of fish that you're going after. If you plan on fishing for trout, then you will need a lightweight pole. Trout don't usually pull very hard on your line. So a lighter pole will work fine.
But if you are fishing for catfish or bass, then you will want a heavier rod because these fish pull much more aggressively on the pole. If you use too light of a pole for these fish, they will snap your rod in half.
What Are the Different Types of Rods?
There are eight main types of fishing rods: fly, casting, ice fishing, spinning, sea fishing, trolling, and telescopic.
Spinning rods
Spinning rods are very similar to casting rods, except lighter and shorter. Spinning rods are ideal for beginners. They come mounted with a large eye. That eye reduces friction when you're casting.
Fly rods
Fly rods are made specifically for fly fishing. Compared to the other rods, this one is super lightweight. A critical thing that separates this type of rod from the others is the lack of a butt piece after the reel. There is a learning curve with fly fishing rods and they can be more expensive. We don't recommend these for beginners unless you know for sure that's what you're interested in pursuing.
Casting rods
Casting rods are designed for accuracy. They allow you to place the bait exactly where you want it. Casting rods are categorized as either bait casting rods or spin casting rods. The eyes are closed to the reel and are somewhat smaller on casting rods. That difference is the way the baitcasting reels peel away on the line.
Telescopic rods
Telescopic rods are known as the ultimate compact rods. Often these rods are eyeless. Instead, the rod acts as the eye itself with the line passing through it. Telescopic rods are used mainly by surf fishers. The best thing about them is that they fold up into small storage spaces.
Trolling rods
Trolling rods are loads of fun. Because you use them behind a moving boat, they are used mainly to coax fish to foray. You would use this type of rod if you were fishing for large game fish like marlin or tuna. The best trolling rods are long with a relatively heavy build with fast action.
Sea fishing rods
As the name suggests with this one, sea fishing rods are used for fishing in the ocean. Often you will see these rods being used on boats or large ships. Sea fishing rods are extremely tough, thick, and heavy-duty with large eyes and huge tips. These incredible rods are best for large fish like sharks.
Surf rods
Surf rods are super long and well-built to handle the sea. Surf rods can also be called sea rods. You can cast these rods a long way because they can be used with heavier sinkers and bait. You can think of these rods like a more substantial version of a spinning fishing rod.
Ice fishing rods
Ice fishing rods are shorter than the others because space is limited when you are ice fishing. These rods are similar to spinning rods, but they have fewer eyes. Ice fishing rods are considered the most ancient rods on the market, and they are designed specifically for ice fishing. This type of rod often has no reel.
Rods Excellent for Beginners
Here are four of our top choices for the best fishing rods for beginners.
Field & Stream TEC-LITE
The Field & Stream TEC-LITE (available from Field & Stream) spinning rod is our absolute favorite for trout and panfish ultra-light fishing! It was designed specifically for casting smaller lures using lighter weight lines. 
The blank is exposed in the handle placing your hand in direct contact with the rod. That combined with its silicon carbide micro guides give it increased sensitivity, bite detection, and responsiveness – which results in more caught fish.
Shakespeare Ugly Stik Tiger Spinning Rod
If you're looking for a rod that is responsive and lightweight, then you can't go wrong with the Shakespeare Ugly Stik Tiger Spinning Rod (click to see price on Amazon). For a spinning rod, this pole really is the king. Shakespeare is one of the best for sure.
The Ugly Stik Tiger uses carbon fiber wrapped around a graphite core. That means that this rod will bend fully without breaking. You'll appreciate that when you're pulling in a big northern pike or a catfish!
This rod is designed for freshwater gamefish that tend to fight hard. It features a reinforced tip, graphite reel seat, and premium stainless steel.  It is an excellent option for inland fishing, but it will also perform great at marine spinning. It's strong enough to handle big game fish, but it's still responsive enough to make catching panfish a whole lot of fun.
Berkley Lightning Rod Spinning Rod
The Berkley Lightning Rod Spinning Rod is another excellent option for beginners, especially if you're on a budget. This rod is surprisingly affordable for such high quality.
This pole is made from a multi-modulus graphite blank. And it comes in sizes ranging from five to seven feet in length. 
The power ratings on this rod range from ultralight to medium-heavy. You can also choose from different actions ranging from moderate to extra-fast.
This pole features several high-quality components, including aluminum oxide inserts, stainless steel guides, a rubberized cork handle, and a double-locking reel seat.
Not only does this rod perform great on the water, but it's also a ton of fun to use.
Okuma Celilo Graphite Salmon/Steelhead Casting Rod
It used to be that baitcasting rods and reels were a bit tricky to use. But today, baitcasting reels have anti-reverse features and magnetic brakes, which makes them easier to use than ever. If you have one of these modern baitcasting reels, you will need a baitcasting rod to go with it. One of the best on the market this year is the Okuma Celilo Graphite Rod (click to see price on Amazon).
Believe it or not, the Okuma Celilo rods were made specifically for tournament pros, but they are priced so well that they are accessible for everyone, even beginners.
This pole is designed to throw heavy baits. That means that you can catch large bass.
This rod really hits the sweet spot between feel and power. It will increase your cast, but it will still provide enough responsiveness to allow you to feel every little nibble.
The Okuma rod is marine-rated with stainless steel and ceramic composites. That means that you can use it whether you're fishing at the lake or standing on the surf.
It's plenty durable and tough too. With this rod, you will have the power to pull a big catch from the bottom with no worry of whether or not your rod can take the stress.
How Much Does a Reel Cost?
Now the next thing that you are going to need is the reel. Your reel is arguably the most important part of your pole. In many cases, the reel will come with the rod. We'll talk more about combo rod and reels in a minute. But you can also purchase the rod and reel separately.
One thing to keep in mind with fishing is that usually more money will mean better quality. A more expensive reel could mean that you are able to feel the bite better. It will also give you a smoother cast.
You can find specialty reels in lighter and heavier builds. Again, this will come down to what type of fish you plan to catch. If we stick with the examples of the trout compared to bass or catfish, you would want a lighter reel for trout that will match your pole. A light reel will cost you around $50 and up. However, if you're fishing for catfish or bass, then you will need a heavier reel. Those can cost, on average, around $200.
Read here for more information on fishing reels.
What Are the Different Types of Reels?
Once you have chosen a rod, it's time to select a reel to go with it. You will find three main types of fishing reels: spinning, spincast, and baitcasting.
Spincast fishing reels
This first type of reel features a closed face. That means that all of the essential components are stored inside beneath a nose cone. With this type of reel, the line is fed from a hole in the cover. While you're casting, there's a button that you push on the back of the reel. When you push that button, it makes the line come out. And when you release the button, it makes the line stop.
Spincast reels are ideal for beginners because they are straightforward to use. With this type of reel, you won't have to worry about getting your line twisted. These are also the cheapest reels on the market. The only downside to this type of reel is that the line isn't as accurate as it is with other types of reels. It also won't go as far.
Spinning fishing reels
Spinning reels are by far the most popular types of fishing reels today. They're super easy to use, even for beginners. Spinning reels feature an open-faced design. An advantage of using spinning reels is that they are more accurate and can cast further than spincasting reels. They also have excellent line capacity.
Spinning reels work great with light lures. The downside to spinning reels is that they are more expensive than spincasting reels. Another disadvantage is that it doesn't perform that great if you use a heavier line with it.
Baitcasting fishing reels
Of the three types of reels, baitcasting reels are the most advanced. That means that they will require a lot of practice and skill to cast them effectively. For this reason, we don't recommend these for beginners.
Even though these reels are more challenging to use, they also offer the best accuracy and distance. You can really step up your fishing game with this reel, but it takes a while to get used to. Because baitcasting reels offer a fast power retrieve, they are ideal for catching bigger, heavier, quicker, and harder fighting fish.
One of the downsides to the baitcasting reel is that it is prone to line tangles and backlashing. It's also worth mentioning that these are the most expensive of all of the types of reels.
Excellent Reels for Beginners
Here are five of our favorite fishing reels this year. All of them are ideal for beginners.
Pflueger President Spincast Fishing Reel
This is my daughter's reel and it's always the reel we lend out when we offer to take a youngster along. Pflueger's President Spincast Reel (see on Amazon) is ideal for beginning anglers because it's so simple and easy to use.
President's have a solid build quality you can feel. We've been pleased with the responsiveness of the drag, how smooth it casts, the hook set is solid, it has an incredibly smooth bearing action, and we've never had a tangle or backlash like we've so commonly encountered with so many other reels lesser quality than this.

Pflueger President Spinning Fishing Reel
Like their spincast reel, Pflueger's President Spinning Reel (see price on Amazon) has a solid build quality – it just feels good to use. This one is my go-to for trout and bluegill.
It's smooth casting; the bail gives a distinctive "click" when you open it so you know it's released and locked open ready to cast – if you've ever gone to cast and had the bail flip closed you can understand how beneficial this can be; it's very light weight – which means minimal fatigue after using all day; I've never had issues with mis-looped line on the retrieve that cause knots around the spool (those can be so frustrating) – this reel is just an overall great value for the price!
KastKing Royale Legend/Whitemax Low Profile Baitcasting Fishing Reel
An excellent option for a high-quality, affordable reel is the KastKing Royale Legend/Whitemax Baitcasting Reel (Amazon link). This baitcasting reel has a 17.5-pound capacity with a precision cut brass gear structure and a carbon fiber drag system.
This reel is ideal for bass fishing, ice fishing, and trout fishing. And the price is nothing short of amazing.
This is a freshwater reel, but it is protected from corrosion so that you could also use it for saltwater fishing. Another thing that we love about this reel is that it has state of the art dual brakes with a reliable centrifugal and magnetic brake system. That means that it offers superior casting control.
SHIMANO Stradic HG, Freshwater Spinning Fishing Reel
You might know Shimano from their great bike parts, but did you know that they also make some of the best fishing reels on the market? True story. The Shimano Stradic HG, Freshwater Reel (see price on Amazon) is easy to use for beginners. It has a maximum drag of 7 to 24 pounds.
This reel is on the expensive side, but even at the higher price, it gets killer reviews. You can use this reel for both freshwater and saltwater fishing. It's ideal for both offshore and inshore action.
This is a really great reel that will last you for a long time. The X-Ship technology offers improved gear durability. It also eliminates friction between the gear and the spool shaft. That means that you'll have longer, smoother casts.
Zebco Authentic Spincast Fishing Reel
If you're looking for the best bargain in a new fishing reel, then look no further than the Zebco Authentic Spincast Fishing Reel (link to Amazon). At a less expensive price point, these reels offer a lower cost to entry. So if you're unsure whether or not you're in it for the long run and just want to try it out, these can be a really good value.
This reel is ideal for small bait and small fish. It probably won't hold up well for monster gamefish.
This reel is pre-spooled with 10-pound line. And it is perfect for freshwater fishing.
Some Excellent Rod and Reel Combo Options for Beginners
Rod and reel combos are the route to go if you are trying to save money. They're much cheaper than buying the pole and reel separately.
What are the advantages of using a rod and reel combo?
Rod and reel combos are what you should look for if you want to save yourself money and aggravation. They are perfect for beginners because they take all of the guesswork out. You don't have to worry too much about matching a rod and reel. Combos come pre-assembled.
They work great, and they will save you a ton of cash. You can get an excellent combo for $40 to $60. You can also find more expensive combos. The rod and reel combos on our list this year range from $45 to $200.
PENN Squall Lever Drag Conventional Fishing Reel & Rod Combo
The Penn Squall Lever Drag Conventional Fishing Reel and Rod Combo (click to see price on Amazon) is higher priced, but it is the best that you can find for deep-sea saltwater fishing.
This combo features a tubular single-piece glass solid tip blank. That means improved strength. We also really liked the graphite frame and aluminum spool reel.
With this combo set, you will be able to haul in the big fish thanks to the lever drag system that lets you make adjustments on the fly. The graphite construction also offers excellent sensitivity.
Ugly Stik GX2 Baitcast Combo
The Ugly Stik GX2 Baitcast Combo (Amazon link) is another excellent option. This rod and reel feature a revolutionary combination of graphite and fiberglass. It offers great strength and uniformity for a sensitive rod with a balanced feel.
This is an excellent combo for the whole family. The EVA lightweight grips were specifically designed for smaller hands. This set is also ideal for beginners.
This combo also comes with protection against corrosion so you can use it in both freshwater and saltwater. One major advantage of this set is that the reel features a magnetic cast control.
PENN Battle II Spinning Fishing Rod and Reel Combo
If you are just starting out in fishing, then another great option is the Penn Battle II Spinning Fishing Rod and Reel Combo (click to see on Amazon). This set is perfect for inshore fishing. It offers high quality at an affordable price. We consider this the best combo for freshwater or shallow saltwater.
The maximum drag on this combo will go as far as up to 25 pounds. You can get this combo in a variety of different weights.
This set offers exceptional durability with its full metal body, heavy-duty aluminum bail, side plate, and rotor. And the HT-100 carbon fiber drag system will give you powerful drag without sacrificing any smoothness.
How Much Does a Tackle Box Cost?
We've been discussing how it's cheaper to buy rod and reel combos rather than buying them separately, right? Well, the same holds true for your tackle box. All your tackle can be purchased separately, or you can save yourself some time and money by going with a starter kit.
You can get a starter kit with all the tackle that you need for less than $25. You can even find some sets that come with all the tackle and a rod and reel. Excluding the license and bait, that's everything that you need to get started fishing. You can find complete fishing sets for less than $50.
What tackle do I need?
Here are some excellent starter kits to save you money.
Shaddock Fishing Tackle Kit
One excellent option for a starter tackle kit is the Shaddock Fishing Tackle Kit (see on Amazon). This set comes with 160 pieces, including eight different sizes of hooks, bobbers, sinkers, swivels, and beads. This set is ideal for freshwater and offshore fishing. It's available at a pretty good price for all you get in the kit.
RUNCL Fishing Tackle
Another option that we recommend is the RUNCL Fishing Tackle. (link to Amazon). This set comes with off-set hooks, drop shot hooks, drop shot weights, bullet weights, barrel swivels, jig heads, fastlock snaps, space beans, and fishing beads. This kit also comes with a tackle box for easy storage. It is perfect for all types of fishing, including both freshwater and saltwater. Also a great value for everything you get!
Bluefire Starter Kit
You should also consider this complete Bluefire Starter Kit (Amazon link) that includes all the tackle you need plus a rod and reel. With this set, you get a fishing rod, reel, fishing line, lures, hooks, and a storage bag. Other than a license, this kit will give you everything that you need to start fishing today.
The different types of fishing line
If you don't go with a kit, then you will have to buy your fishing line separately. There are three main kinds of fishing line:
Monofilament
Braid
Fluorocarbon
For the past 50 years, monofilament has been the standard fishing line used by millions of anglers. It's inexpensive, and it casts very well with plug tackle or spinning. It's also excellent for tying knots.
In recent years, braided fishing line has increased in popularity. The braided line offers high abrasion resistance, excellent casting characteristics, and very fine diameter. Perhaps the best thing about braid is that it has practically no stretch. That means that it's super sensitive, making it the top choice for deep water fishing.
Another relatively new product is fluorocarbon fishing line. Initially, fluorocarbon was priced in the stratosphere. But as the line has improved in recent years, the price has also come down dramatically. One of the best things about fluorocarbon is that it's virtually invisible. It has less stretch than mono, but it's more elastic than braid. And unlike mono, fluorocarbon line won't absorb water.
The type of line you should use is, in part personal preference, and partly determined on the kind of fish you are trying to catch.
You can read more about the advantages and disadvantages of all three types of lines here.
Berkley Trilene XL Smooth Casting Service Spool with 6-Pound Line Test
One excellent choice for a fishing line for beginners is the Berkley Trilene (see on Amazon) XL Smooth Casting Service Spool with 6-Pounds Line Test. This monofilament line is affordable and durable and is perfect for all types of fishing.
KastKing SuperPower Braided Fishing Line
Another good option is the KastKing SuperPower (see price on Amazon) Braided Fishing Line. This braided line offers super strong knot strength, low memory, excellent abrasion resistance, zero stretch, and ultra-high sensitivity. It will work well for all fishing applications. And it is affordable.
How Much Does Bait Cost?
When it comes to bait, you can either use live bait or lures. Lures are more cost-efficient because you can use them over and over again. But live bait works great too. Some common examples of live bait include worms like nightcrawlers and redworms, leeches, minnows, and insects. Live shrimp are another option if you're fishing in saltwater. You can get live bait for less than $25.
If you go with lures, there are seven main types that you can get: jigs, spoons, spinners, plugs, soft plastic baits, and flies. There are many kits available with multiple lures. You can get a good starter set of lures for less than $20.
You can learn more about the different lures here.
Here are a couple of lure kits that will get you started.
Sptlimes Fishing Lure Kit
Sptlimes offers a fishing lure kit (link to Amazon) that has 77 different lures. You can use these lures in all fishing applications, including in both freshwater and saltwater.
PLUSINNO Fishing Tackle Kit
If you want an excellent kit that includes all of the tackle and bait that you need, you could try the PLUSINNO Fishing Tackle kit (see price on Amazon). This set comes with over 100 pieces and a tackle box to carry it all. These lures are appropriate for all fishing applications.
How Much Does a Fishing License Cost?
If you want to go fishing in the United States, then you need a fishing license. Fishing licenses are required by law for anyone over the age of 16 and 12 in some states. One of the places that you can go to buy a permit is your local Walmart, one of the nation's biggest sellers of fishing licenses.
To get your license, go to the sports and outdoors section of your Walmart and explain to the employee that you would like to purchase a fishing license. To make the process easier, there is some information that you need to know.
First, are you planning on fishing in saltwater or freshwater? 
How long do you need the license? You can get licenses that are good for a year, a month, or a day. 
How many people are going fishing and how old are they? Prices will vary depending on age.
The exact cost of a fishing license will vary depending on your state. But here are some estimates of national averages:
For individuals aged 16 to 65: $19
For individuals over the age of 65: $10
One-day license: $11
Year-long fishing license for non-residents: $40
Three-day tourist license: $19
The Bottom Line
The bottom line is that fishing doesn't have to be expensive to get started. You can get everything you need to catch fish today not a lot of money up front. Of course, you could also spend a small fortune on fishing gear. The fact is, there is fishing equipment available for every budget.
So what are you waiting for? Let's go fishing!